How To Apply Human Hair Colored Clip-In Extensions
These Human Hair Colored Clip-in Extensions are designed to add a temporary pop of color to your hair. Simply secure these hair pieces with the ease of applying a simple barrette, and you can instantly change up the hue of your hair to reflect the season's hottest trends. Achieve more color variations to your look by adding a splash of color, hi/lo lights, or an ombre effect without chemically treating your hair.
Rainbow streaked hair is the perfect accessory for any affair, be it black tie or backyard casual. Show your spirit for your favorite team, accessorize for the holidays, rock out at a music festival, support your favorite cause, or flaunt your artistic side.
Slip into something more colorful!
Instantly change up the hue of your hair to reflect the season's hottest trends.
Colored Clip-In Application
Prepping Each Section: For thin hair, prep each section for extra security and support. Use a clip to secure all hair away from the area you will be prepping. Use one hand to hold the ends of your hair, and place a comb 1 inch from the scalp with the other hand. Push the comb towards the scalp three times. This creates a cushion for the clips to hold onto.
Opening and Closing the Clips: To open the clip, use your index finger and thumb to gently push the center of the clip. To close the clip, push your thumbs the opposite way
Have Fun:  Place them where you want them and have fun creating your unique look with these colorful pieces!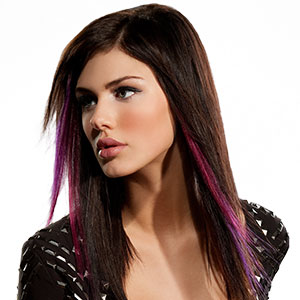 Products For Colored Clip-In Hair Extension Care
In order to maintain your LOX Extensions, it is essential that you sustain the moisture content of the Remy human hair. Below are hair extension care guidelines to help you keep your LOX hydrated and healthy. To maintain the highest quality, we recommend using professional products ONLY.
Sulfate-Free shampoo:  We recommend cleansing your hair extensions with gentle shampoo. Properties such as sulfate-free, hydrating, and/or color protecting are all suggested. Please avoid harsh shampoos, including those designed to treat sensitized or damaged hair.
Moisturizing mask:   We recommend a mask that can be used every time you wash your hair. The extensions do not absorb the natural oils produced by our scalp, so it is essential to infuse luster into the hair.
Leave-in conditioner with heat protection: We recommend a nourishing cream to help protect the Remy hair from the daily aggression's of a blow dryer, flat iron, curling iron, and heat from the sun.
Shine serum: We recommend a shine serum to aid in detangling the hair, increasing brush glide, and moisture retention.
LOX Loop Brush: When brushing in between the wefts and micro bead hair extensions, it is essential that you use a LOX Loop Brush to avoid matting.
LOX Hair Clips: These make it so simple to clip up a lot of hair at once. Use them when blow drying or styling your hair.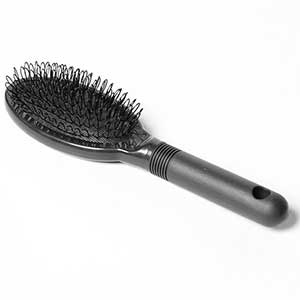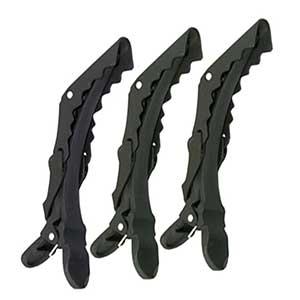 Colored Clip-In Hair Extension Care
We recommend the use of professional products only. If wearing the extensions every day, LOX recommends shampooing them once every 3-4 weeks. If wearing occasionally, LOX recommends shampooing them once every 3-4 months. For longer lasting extensions, the hair should be washed only as needed. Never swim or shower while wearing extensions.
WASHING THE REMY HUMAN HAIR CLIP-IN EXTENSIONS:  

Before shampooing, gently remove any tangles using our LOX Loop Brush.
Hold the extensions at the clips, and dampen them with cooler water. Apply sulfate-free shampoo, and gently stroke the hair downward starting from the top of the weft down to the ends. Do not use circular or scrubbing motions. Rinse thoroughly in the same direction.
Apply the moisturizing mask. Avoid contact with the base of the extensions. Condition the hair in downward strokes. Leave conditioner on for 30 minutes. Rinse thoroughly.

STYLING: 

We recommend laying the extensions out flat to air dry or the use of heat tools. If you are using our synthetic clip-ins, we do not recommend the use of a blow dryer or hot tools over 320 degrees. Always use a heat protecting product on the hair before applying heat.
Use our LOX Clip-In Bag when styling the extensions.
Use a ceramic or boar bristle brush to blow-dry the hair.
Heat tools, including curling irons and flat irons, may be used. Keep the heat approximately 1 inch away from the base of the extensions.
For further questions please reach out to us by one of the following options: phone at 888.LOX.0110, online chat, or by submitting our contact us form.
You inspire us, please be sure to #loxextensions and share your amazing transformations. For inspiration, visit LOX hair extensions before and after gallery on our Facebook Page! We welcome you to be part of the LOX Extensions family, join us!