Proper Straight Hair Extension Care For LOX Micro Bead Single Strand and Skin Wefts
Micro Bead Hair Extension Process 
With proper hair extension care, LOX will last 4-6 months.
Extensions can be applied in 1-2 hours.
LOX Extensions must be lifted (pushed up) every 4-8 weeks.
Lifting service takes 15-45 minutes.
Hair must be clean and dry before all LOX Services.
Hair Extension Care Made Easy With Tips From The Pros At LOX.
Follow our recommendations to keep your hair looking healthy and fabulous!
Products For Straight Hair Extension Care
In order to maintain your LOX Extensions, it is essential that you sustain the moisture content of the Remy human hair. Below are hair extension care guidelines to help you keep your LOX hydrated and healthy. To maintain the highest quality, we recommend using professional products ONLY.
Sulfate-Free shampoo:  We recommend cleansing your hair extensions with gentle shampoo. Properties such as sulfate-free, hydrating, and/or color protecting are all suggested. Please avoid harsh shampoos, including those designed to treat sensitized or damaged hair.
Moisturizing mask:   We recommend a mask that can be used every time you wash your hair. The extensions do not absorb the natural oils produced by our scalp, so it is essential to infuse luster into the hair.
Leave-in conditioner with heat protection: We recommend a nourishing cream to help protect the Remy hair from the daily aggression's of a blow dryer, flat iron, curling iron, and heat from the sun.
Shine serum: We recommend a shine serum to aid in detangling the hair, increasing brush glide, and moisture retention.
LOX Loop Brush: When brushing in between the wefts and micro bead hair extensions, it is essential that you use a LOX Loop Brush to avoid matting.
LOX Hair Clips: These make it so simple to clip up a lot of hair at once. Use them when blow drying or styling your hair.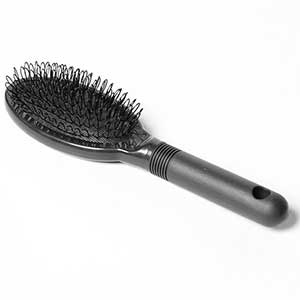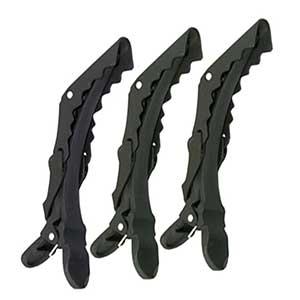 Micro Bead Straight Hair Extension Care Regimen
Washing the Remy Human Hair Extensions:

Before shampooing, gently remove any tangles using our LOX Loop Brush. Avoid shampooing more than 2 – 3 times per week. The less they are washed, the longer human hair extensions will last. Apply gentle, sulfate-free shampoo. Keep the hair in natural fall position while cleansing. Shampoo the hair in downward strokes starting from the top of the extensions and working down towards the ends. Do not use circular or scrubbing motions. Rinse thoroughly; lift each weft to and separate the micro beads to rinse shampoo properly. If shampoo residue is left in between the hair tracks, itching may occur.
Apply the moisturizing mask. Avoid contact with the base of the extensions. This will cause slipping of the pre- bonded hair extensions. Condition the hair in downward strokes. Leave conditioner on for 3 – 5 minutes. Rinse thoroughly. Once a week, apply the conditioner as a mask, leaving it on the hair for 30 minutes. This will ensure proper hydration of your luxury hair extensions.
Styling:  Blot hair dry with a towel; never scrub your human hair extensions. Never brush the extensions when they are wet. Real hair is most fragile when it is wet. Avoid any extra tension on wet hair while brushing, air drying or pulling the hair up past its natural fall.
Blow dry 50 – 70% of the moisture out of the extensions. Only angle the blow dryer downward, in the natural direction of the hair's cuticle. Water repels oil, and human hair behaves like a sponge. If it contains too much water, it cannot absorb styling products. By removing hair's excess water, your professional product will perform better and hair will detangle easier.

Applying Products 

Avoid contact with the base of the extensions. This will cause the beaded hair extensions to slip and/or slide. Apply leave-in conditioner with heat protection followed by the shine serum.
Divide hair into sections and use our LOX Loop Brush to remove tangles. In order to avoid tension on the natural hair, secure the base of the extensions with one hand. Brush the hair from the ends first, working your way toward the base of the extensions. Our LOX Loop Brush can be used directly at the base of the extensions. This is extremely important to minimize matting.
Styling The Extensions Use a ceramic brush or a boar bristle brush to blow dry. Angle the blow dryer down toward the hair. Heat tools, including curling irons and flat irons, may be used. Ceramic tools are best for styling Remy hair; temperature dial should be set at 350 degrees or under. Keep heat approximately 1 inch from the base of the extensions.
Micro Bead Straight Hair Extension Care Tips And Tricks
Excessive contact with salt water or pool water is not recommended. Apply a mask to the hair before swimming to protect the hair from over drying. Rinse and condition hair immediately after exiting the water to remove any residue.
Moisture and heat will break down the silicone of the beaded hair extensions.
Compliance with these guidelines, air temperatures/humidity, exercise habits and the lifestyles extension wearers will factor into the longevity of your hair extensions.
Avoid frequent hair washing. We recommend the use of a dry shampoo or volumizing powder to absorb excess oil in the natural hair.
If you have hair extensions for thin hair, secure your LOX in a low loose ponytail before washing. Flip your head upside down in your sink or tub, and then gently cleanse your natural hair.
Discoloration may occur when direct sunlight, tanning beds, well water, or argon oils (on blonde hair) are in direct and excessive contact with the different types hair extensions. To avoid discoloration, use spray sunscreen on the ends of the hair, cover hair with a hat, use water softener or a shower head filter, or select products specially formulated for blonde hair.
During the first week, do not pull the extensions up past natural fall. It is recommended to wear hair in a low and loose ponytail. A low, loose ponytail is also recommended for sleeping at night.
The buildup of any product on the base of the hair extensions will cause the silicone to break down. Avoid applying any products to the base of hair extensions, and make sure to thoroughly rinse shampoo after every washing.
Hair Extension care is easy when you follow our recommendations. For further questions please reach out to us by one of the following options: phone at 888.LOX.0110, online chat, or by submitting our contact us form.
You inspire us, please be sure to #loxextensions and share your amazing transformations. For inspiration, visit LOX hair extensions before and after gallery on our Facebook Page! We welcome you to be part of the LOX Extensions family, join us!